by Alissa Kim / Nathan Lee / Caleb Lee / Clare Lee / Amanda Lee / Jenny Koo / Saebyeok Keum / Joseph Baik / Jay Kim
Produced by Korea Daily (중앙일보) and the JoongAng Student Reporter (JSR) program, the Career Research Project is a summer project designed to provide students with the experience of collaboration across independent arrangements and interested parties with condensed information in an accessible format. In addition, participants can discover unexplored paths to viable careers in an organized fashion and under the guidance of a leader studying or working in their chosen field of study. Each article details the culmination of the students' investigation about an overarching field of study, illuminating details about their major, highly appraised colleges for their field of study, future and alternative paths towards potential careers, and other interesting facts from their researching journey. [Editor Evelyn Chough]
---
.

What is Public Health?
Public Health is the science of protecting and innovating the health of people and communities. As straightforward as this mission may seem, this field can be overwhelmingly broad. From preventing the spread of infectious diseases in a small neighborhood to helping climate change for the whole world, public health covers it all.
The Past, Present, and Future of Public Health
Before the 18th century, infectious diseases ran rampant throughout communities as proper sanitation practices had not been discovered. Streets and waterways were full of sewage and bacteria, contaminating drinking water and food. It wasn't until the mid-1800s when London Lawyer Edwin Chadwick proposed a system for sewage disposal that drastically improved cleanliness and sanitation in cities (National Library of Medicine, 1998). Around the same time, Doctor John Snow traced the source of a cholera outbreak in London to a contaminated water pump. Snow's perseverance shown in his investigation and research (many officials didn't believe him at first) continue to be an inspiring example for epidemiologists today (ph.ucla.edu, 2003).
Currently, we have great advancements in the field of PH. Vaccinations, seatbelts and airbags in cars, workplace safety laws, pre and post natal care, and safe drinking water are all examples that we use and encounter in our daily life that weren't there 100 years ago.
The field of PH has been, is, and will always be a vital part of our world's healthcare system and the wellness of humanity. This is a dedicated workforce full of individuals who are constantly striving to achieve the best health for our planet. With climate change, obesity, infectious diseases, and political unrest always increasing in destructivity and severity, the research and work of PH will be needed more than ever.
What schools are the best for a focus in Public Health?
▶Zoom in on the article image on click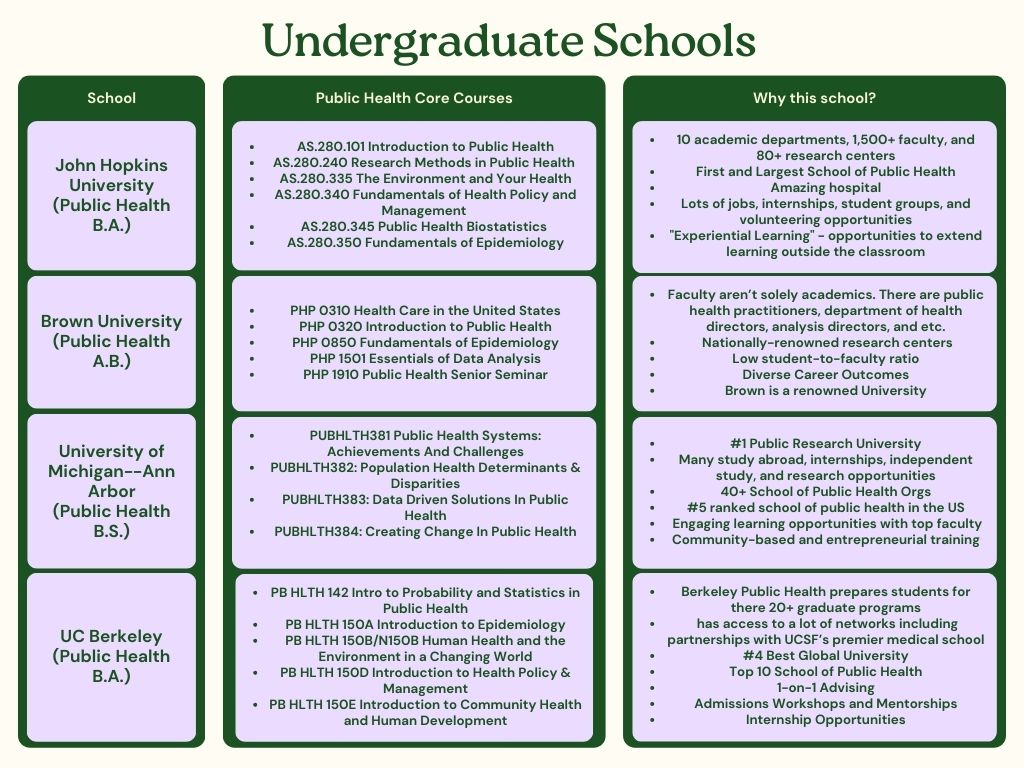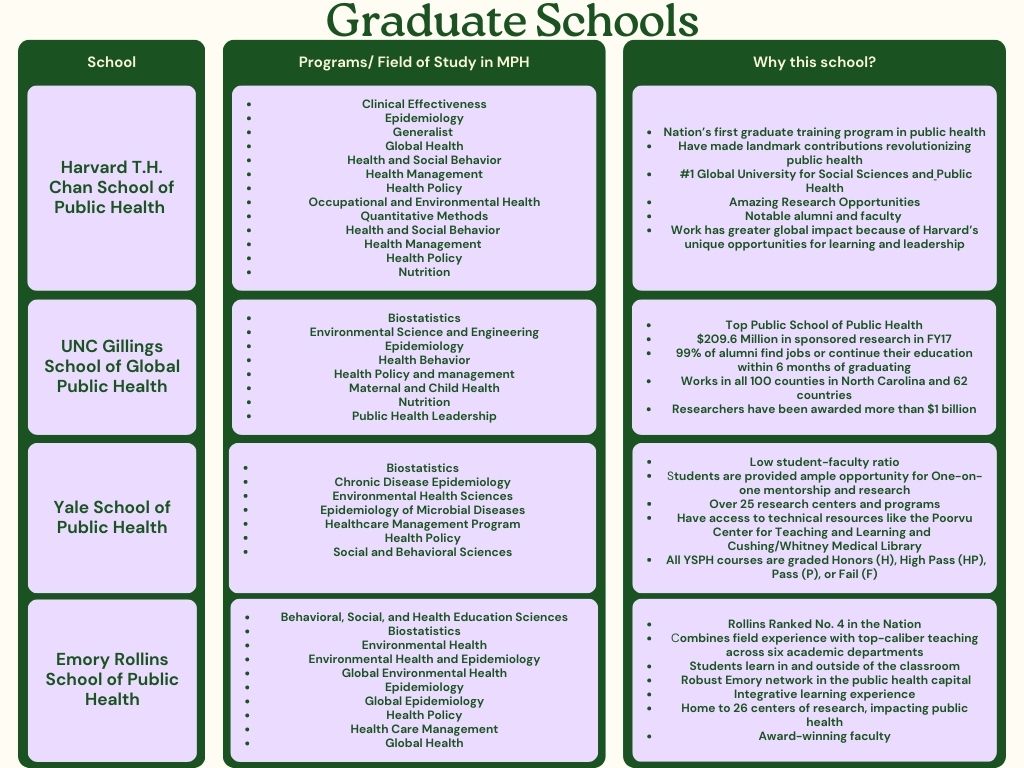 What majors are in Public Health?
There are many majors in the field of public health, but some specialized versions of this major are listed below.
Biostatistics Degrees and Programs: This major is about collecting, analyzing, interpreting, and presenting the data that is related to health and health outcomes.
Environmental health degrees and programs: Studies the human health and environmental health, because they are closely related with each other in terms of general well being of the population.
Global health degrees and programs: Studies the the various global factors and how they are related to the human health and illness, and provide the potential solution by looking those global factors.
Health Equity Degrees and Programs: Study about the difference and discrimination, inequality in healthcare access, treatment and outcome based on their social status, gender, residence, ethnicity, and sexual orientation.
Health and Human service Degrees and Programs: Study about improving the individual's well-being and life by managing them with combination of counseling, social work, and criminal justice skills and methodologies.
Nutrition Degree and Programs: Study about various food that is different with culturally, historically, and sociologically in aspect of food and nutrition, and study the role of food in our life and how it affects human health, well being and diseases.
Some Unexpected Majors that Fall under Public Health may be:
Biostatics
Epidemiology
Nutrition
Social and Behavioral science
There are also many major combinations with public health that may be useful to obtain certain degrees:
Biology: helpful for a career in epidemiology or public health research, provides strong fundamentals in disease mechanisms
Political science: useful for those interested in laws and policies regarding public health
Psychology: how mental health and physical health are related and intersect; it may seem unusual, but they work well together
Statistics: analysis and research into data about disease pathways; also may seem unusual but crucial for analytical work
What are some Jobs in Public Health?
Epidemiologist- 19-1041.00 – Epidemiologists
Investigate and describe the determinants and distribution of disease, disability, or health outcomes. May develop the means for prevention and control.
Median wages (2022): $37.75 hourly, $78,520 annual
Typically require a master's degree (public health, biology, sociology) May require a master's degree, and some require a Ph.D., M.D., or J.D. (law degree). Common majors are biology, public policy and social services, or social science.

Nutritionist- 29-1031.00 – Dietitians and Nutritionists
Implement nutritional programs to help promote healthy habits and disease prevention. Advise patients and families of recommended diets and plans. Plan and conduct training programs in dietetics, nutrition, and institutional management and administration for medical students, health-care personnel, and the general public. Median wages (2022): $31.95 hourly, $66,450 annual
Typically require a master's degree, and some can require a Ph.D. Common undergraduates majors are food science, microbiology, biology, nutrition, etc.

Community Health Worker- 21-1094.00 – Community Health Workers
Helps individuals adopt healthy behaviors, helps individuals communicate with healthcare providers and services, and may perform BP and other basic screenings.
Median wages (2022): $22.21 hourly, $46,190 annual. Most jobs require a bachelor's degree but some just require an associates or other training.
Common majors include psychology, human services, or social work.

Occupational Health and Safety Specialist- 19-5011.00 – Occupational Health and Safety Specialists
Review, evaluate, and analyze work environments and design programs and procedures to control, eliminate, and prevent disease or injury caused by chemical, physical, and biological agents or ergonomic factors. May conduct inspections and enforce adherence to laws and regulations governing the health and safety of individuals.
Median wage (2022): $37.77 hourly, $78,570 annual
Most jobs require a bachelor's degree but some may just require an associates or other training. Common majors are biology, psychology, social work, etc.

Health and Safety Engineer 17-2111.00 – Health and Safety Engineers, Except Mining Safety Engineers and Inspectors Promote worksite or product safety by applying knowledge of industrial processes, mechanics, chemistry, psychology, and industrial health and safety laws. Includes industrial product safety engineers.
Median wage (2022): $48.40 hourly, $100,660 annual
Commonly require a bachelor's degree (majors include environmental science, public safety, and engineering).

Public Health Lawyer 23-1011.00 – Lawyers
Represent clients in legal proceedings, draw up legal documents, or manage or advise clients on legal transactions (specifically in the field of public health).
Median wage (of a general lawyer in 2022): $65.26 hourly, $135,740 annual
Requires a bachelor's degree and completion of law school, as well as passing the bar exam. Usually requires a professional degree in the field of study.

Can you work in Public Health without a college degree?
Beyond Traditional Academics: Paths to a Career in Public Health
Traditionally, a career in public health has been linked to collegiate academic training, usually starting with a bachelor's degree in public health, biology, or social sciences, followed by a master's degree in public health (MPH). However, the field of public health is becoming more diverse, broad and accessible, presenting various other paths to individuals who desire to make an impact in public health, but are not inclined towards traditional academia.
Online Learning Platforms and Certifications: The internet has dramatically broadened educational opportunities. Numerous online platforms offer courses related to public health. Platforms like Coursera, edX, and FutureLearn provide courses from reputed institutions worldwide, covering various topics such as epidemiology, global health, health informatics, and health policy. Upon completion, learners often receive certificates that can be valuable in job applications or professional development. While not a replacement for a degree, these courses can supplement existing knowledge or provide a foundation for those interested in the field.
Internships and Fellowships: Many organizations and institutions offer internships or fellowships in public health-related areas which oftentimes do not require a degree in the field. These can range from local health departments to international organizations like the World Health Organization (WHO) or the Centers for Disease Control and Prevention (CDC). These opportunities provide both the theoretical knowledge and practical experience necessary to succeed in the public health sector.
Military Service: Certain branches of the military, such as the U.S. Army's Medical Service Corps, offer opportunities to work in public health-related roles. These roles can involve epidemiology, health promotion, disease prevention, and more. Military service can also provide benefits for further education in public health with each respective branch such as the army, airforce or even the navy providing pathways to becoming a "Public Health Officer".
Cross-disciplinary paths: some people might start in another field and transition into public health. For instance, journalists might use their communication skills to move into health communication, or IT professionals could apply their skills to health informatics. This allows individuals with diverse backgrounds to contribute to the public health field.
While these alternative pathways may not replace the need for formal education, especially for advanced roles in public health, they certainly offer viable routes for individuals who are passionate about making a difference in public health. It's crucial to remember that the goal of public health—to protect and improve the health of people and their communities—can be achieved through various paths, and each one contributes its unique value to this vital field.